Welcome!
         Welcome to the Indian River Marina in Clinton, Connecticut! The marina is situated about one-quarter mile up the Indian River from the Clinton Harbor where three rivers – the Hammonasset, Indian, and Hammock – converge on their way to Long Island Sound.
The lovely tidal wetland setting is ideal for shallow-draft vessels and allows convenient access for sailing and fishing on Long Island Sound and paddling in the rivers running into Clinton Harbor. Rent a kayak, canoe, or stand-up paddleboard and launch directly into the Indian River, or you can arrange a drop-off to other nearby waters. We also offer very reasonable rates on slips and winter storage.
The marina is located within easy walking distance of historic downtown Clinton where antique shops, restaurants, art galleries, and pleasant quiet streets lined with cottages and restored captains' homes provide a wonderful location for strolls and casual dining.
Reviews
"This is our favorite spot to rent kayaks in the shoreline area. Very scenic area, tons of wild birds, a large area to kayak ... even access to the beach!"
"This is such a nice spot off Clinton's busy harbor to rent a kayak. I had the Wilderness Pungo 12 which was comfy. All their gear is top notch. It takes about 1/2 hour to paddle out and the marsh has herons and pipers to look at. Great time!!"
"Had my first paddling experience here. Loved the place!"
"The SUPs and kayaks are of great quality, and there are so many places to explore from their scenic spot (they even provide a laminated map with rentals). Their Friday night paddle tours are the best value on the shoreline!!!"
"The nicest people!!! Purchased my first kayak and they made the experience amazing. If you are looking to purchase a kayak.... Look no further! You will not be disappointed"
"Awesome place! I purchased 2 Kayaks, they are professional, knowledgeable, and personable. I will return here for other purchases, and would recommend anyone to purchase or rent a kayak here."
"Sarah and Chris are awesome. I had reached out to them about a kayak I was Interested in. Sarah came in a hour before they opened so I could pick up the kayak. She had 3 color choices out for me when I got there. Her and Chris loaded it in my truck for me and had all kinds of accessories in stock . Overall such a great experience. Indian River Marina and Kayaks will be my go to place for paddle sports from now on."
"I visited over the weekend with my dad to purchase some kayaks. First off, the fact that Indian River will let you try their kayaks out on their salt marsh before purchasing is amazing. It helped make our decision easy without second guessing if we'd just spent a lot of money on purchases we'd regret. But more than that, their customer service was spectacular."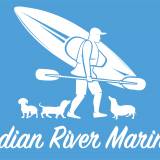 -Maria2022
The 2023 kayak and SUP rental season begins on Friday, May 26!!  
To reserve your kayak for the best seat on the Connecticut shore, there are 2 options: online reservations or by phone (860) 664-3704 
For a full list of Indian River Kayak's upcoming
events
, check out the "events" tab, our social media pages, or give us a call at (860) 664-3704.  
Looking to buy a kayak or SUP? 
We are an authorized dealer for Current Design, Dagger,  Pelican, Perception, Stellar, and Wilderness Systems!  We offer
FREE DEMO RIDES
-something big box stores don't offer! You can also check out our online inventory of kayaks! 
You can also call Chris at 860-558-4750 or Sarah at 860-304-7055 or email us for more information @ irmkayak@gmail.com